Forge FC shuts out Atlético Ottawa to go top of the CPL table
---
Beware of the reigning Canadian Premier League champions.
Daniel Kruzten's headed goal and a late strike by David Choinière lifted Forge to a 2-0 win over Atlético Ottawa on Sunday in Charlottetown, as the CPL champs rebounded in style from a midweek 905 Derby loss.
With the victory, Forge now has 11 points and leapfrogs Cavalry FC (10 points) for first place in the CPL's overall standings. Incredibly, seven of the league's eight clubs are still mathematically alive (FC Edmonton is the exception) at The Island Games, with only six points separating first-place Forge and seventh-place Ottawa.
The top four teams at the conclusion of the opening round robin next weekend advance to the second round.
Jordan Dunstan made his first CPL start for Forge on Sunday, and was joined in the starting XI by the returning Anthony Novak, Chris Nanco and Maxim Tissot (who previously played for the Ottawa Fury in the USL).
Forge stormed out of the gate, with Novak failing to convert a pair of early scoring chances created by Nanco. Franciso Acuña also looked lively in attack for Ottawa in the early stages.
Forge coach Bobby Smyrniotis was forced to make a change after 11 minutes when Nanco limped off the pitch with an injury and was replaced by Kadell Thomas.
The CPL champs' persistence paid off when Krutzen headed home after Ottawa goalkeeper Nacho Zabal misjudged a corner kick played deep into the box by Tissot. Forge 'keeper Tristan Henry was called into action just before halftime when he made a smart save to deny Ottawa captain Ben Fisk.
Forge continued to dictate the pace of the match in the second half, and nearly doubled its lead in the 75th minute when substitute Mo Babouli flashed a low drive just wide of the far post. Coming off the bench, Choinière scored with a lovely left-footed finish off a setup by Paolo Sabak late in regulation time to seal the win for Forge.
Sunday marked the first-ever meeting between Forge and Atlético, who became the league's eighth club and first expansion franchise earlier this year.
Atlético Ottawa returns to action on Wednesday when they face Pacific FC (8:00 p.m. ET/9:00 p.m. AT). Forge is off until next Saturday when they play their final match of the first round, against Valour FC (noon ET/1:00 p.m. AT).
---
RELATED READING: 2020 CPL regular season: The Island Games
---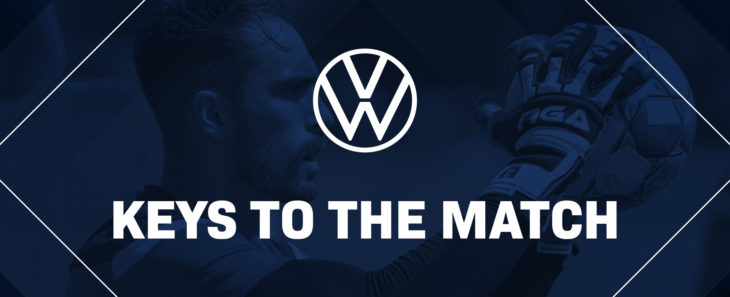 Atlético Ottawa: Don't let it go to your head – Fresh off a 2-0 win over Cavalry FC, Ottawa was riding high coming into this contest as they looked to upset the league's other top heavyweight. Atlético stayed grounded against Forge, but they were simply out-played by the CPL champions.
Forge FC: Stay disciplined – After picking up three yellow cards in their last game vs. York9 FC, Forge earned a single caution (for time wasting) on Sunday. Crucially, they also didn't concede a penalty (like they did against Y9, which proved to be the difference) that would have handed Ottawa a life-line.
---
BOX SCORE
Goals
35' – Daniel Krutzen (Forge FC)
89′ – David Choinière (Forge FC)
Discipline
39' – Yellow: Ajay Khabra (Atlético Ottawa)
65' – Yellow: Kadell Thomas (Forge FC)
86' – Yellow: Brandon John (Atlético Ottawa)
---
TOP PERFORMER
Daniel Krutzen (Forge FC)
The Belgian centre-back put in a solid defensive shift with two clearances and six interceptions. Oh yeah, he also scored the game winner.