Atleti Single Match Tickets Now On Sale!
Our 2022 campaign starts April 9.  We look forward to hosting you at TD Place. Every match is meaningful and every point counts. Our home support means everything and we want you here!
Click the image to purchase your seats…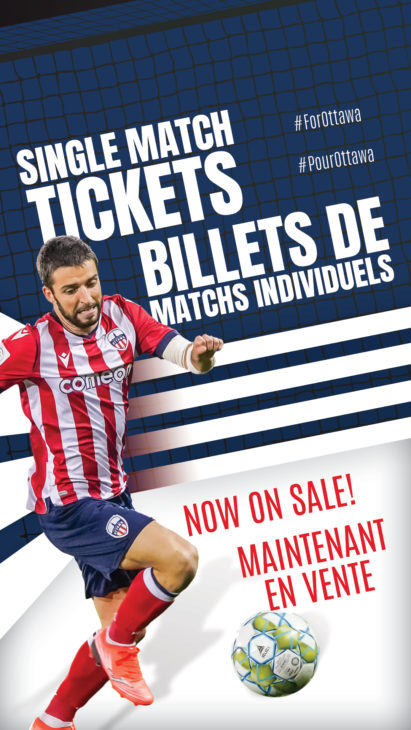 If a few matches catch your eye or if you plan on bringing 5 friends or family to a match, then consider a 2022 Flex Pass Memberships
If more than a few matches catch your eye and you like the sound of a free Atleti Home Jersey and free Atleti Scarf, then consider a 2022 Season Seat Membership.
SATURDAY, APRIL 9th, 2022
The 2022 Atleti Home Opener is April 9th vs Cavalry. Kick off will be 3pm. Our first home game of 2022 will be awesome. The energy at last year's Home Opener is the stuff that dreams are made of.
SATURDAY, APRIL 16th, 2022
April 16 vs Halifax Wanderers FC.  This match (and every match) vs HFX is a battle. Memories of the first and final match of last season will no doubt be on the minds of both clubs.
SUNDAY, APRIL 24th, 2022
April 24th vs Valour FC. We welcome our friends from Winnipeg. Maybe there will be a dusting of snow on this day to make our visitors truly feel welcome?
SATURDAY, MAY 7th, 2022
Only one league match in May. Kickoff at 6pm. We are looking forward to this one, as we host the current champs, Pacific FC. This will be a great test for our club.
MAY 10th or 11th or 12th, 2022
There will be a Canadian Championship match in May. We know we play York United FC. Exact date and time will be announced soon.
SUNDAY, JUNE 5th, 2022
The first of two June matches. June 5 vs Pacific FC. Since Pacific are the reigning champs, we have our sights set on this one. Gotta beat the champs to become the champs, right?
TUESDAY, JUNE 14th, 2022
June 14 vs York United FC. Circle this one against York United as some bad blood is brewing with our Toronto rivals.
SATURDAY, JULY 9th, 2022
Get ready for a busy July with three matches on the sched. July 9 vs Cavalry FC is up first. Always great to welcome our friends from Calgary to TD Place. This ain't our first rodeo.
SUNDAY, JULY 17th, 2022
July 17 vs Valour FC is up next. These matches vs Valour always seem to bring out the best in both clubs. A beautiful Sunday afternoon is on tap.
SUNDAY, JULY 31st, 2022
Final match in July is July 31 vs Forge FC. This one is certain to be of interest for all. We are looking for our first win against this CPL powerhouse. Tie your boots on extra tight for this one.
SUNDAY, AUGUST 7th, 2022
The Atleti Summer continues with three big matches in August. Up first  is August 7 vs FC Edmonton. Looking forward to welcoming The Eddies to TD Place. Let's make sure we give them some Ottawa hospitality, and we don't mean beavertails and nice walk along the canal.
WEDNESDAY, AUGUST 17th, 2022
August 17 is when we welcome Halifax back in the building. Our rivals from the East Coast better bring us some fresh lobster and Garrison beer or we'll make them pay on the pitch!
SATURDAY, AUGUST 27th, 2022
The Atleti Summer continues with another match  vs Hamilton (Forge FC) on August 27. The won back to back CPL titles in the past, and we have our eye on that for the future, so maybe this night will be a passing of the torch so-to-speak? Let's go!
FRIDAY, SEPTEMBER 2nd, 2022
One match in September. The Eddies pay us a visit on Sept 2. This is Friday night game under the lights to kick off the Labour Day Long Weekend. Did someone say FC Edmonton Labour Day Classic?
SUNDAY, OCTOBER 9th, 2022
Final match of the regular season goes down on October 9th at 4pm. We play York United FC. This match will most likely have a huge impact on the playoffs.
Join us at TD Place and experience Atletico Ottawa in person. Learn about Single Match Tickets, Season Seat Memberships and Flex Pass memberships.