Match Day Guide: For Aug 14th SOLD OUT Home Opener
This is it. The very first home match. You've waited and waited and here we are. The Match Day Guide is your one stop shop for the important info you'll need to know, and maybe access on your phone while here or on your way here. So, for starters, we play HFX Wanderers FC and kickoff is 3pm. We played HFX in their Home Opener so it's only fitting that we welcome the CPL's East Coasters to our home and return the favour. There is a ceremony to open up our historic first match, featuring dignitaries like our Mayor Jim Watson, the Hon. Lisa MacLeod, Minister of Heritage, Sport, Tourism, Culture, and many more. There will be a flag raising, a speech or two, and maybe a few surprises. We will also introduce you to the entire team ahead of kickoff. You don't want to miss this. Arrive early! And please be patient with the TD Place staff. This is the first live event in a very long time, so some dust will need to be shaken off all around.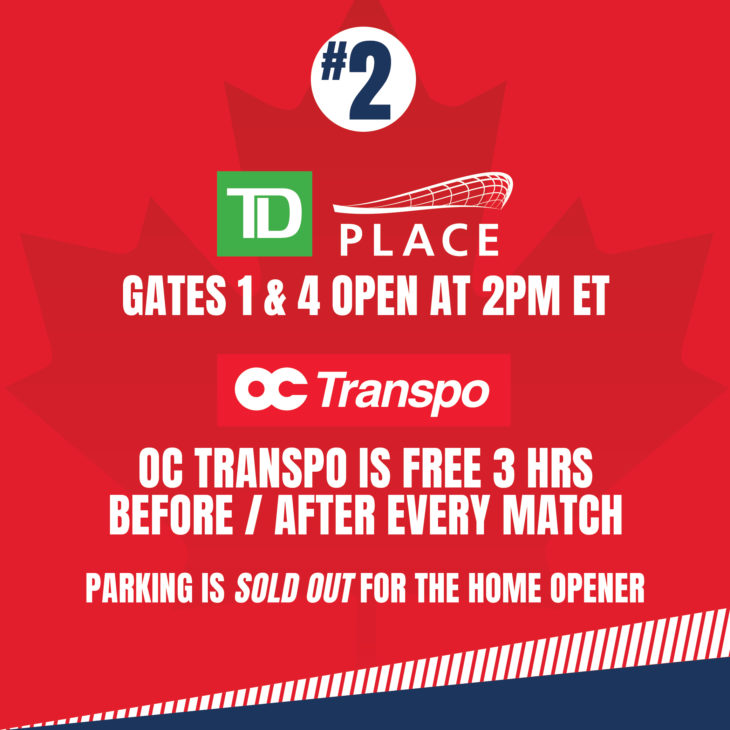 If you can, and are able, consider riding your bike. Lots of bike parking in and around Lansdowne. Walking is a good option too. If you are taking public transportation, then just know… it's FREE. Sweet deal, right? You may need to show your ticket on your phone, if asked, but OC Transpo really came through on this one: free transit 3 hours before or after a match. On-site parking is sold out, but you can always take your chances to try and find parking nearby.
Here's the low-down on all things safety… face coverings will be required to be worn over the mouth and nose at all times unless eating or drinking while at TD Place, including while in your seat. There are NO IN & OUT privileges. If you leave the stadium you will not be allowed to re-enter. Cleaning procedures have been enhanced and sanitizer stations will be available throughout the venue. TD Place is a 100% cashless stadium, only debit and credit will be accepted in the stadium, no exceptions. Fans are encouraged to maintain physical distancing when moving around the concourse. TD Place does have a capacity restriction in place of no more than 75% in all outdoor seated sections. And of course, please do not attend a match if you are feeling sick or demonstrating any symptoms of COVID-19. If you haven't vaxxed up yet, and want to… there's a clinic on-site at TD Place on Match Day. It's at Gate 2 from 1pm to 5pm.
There is an inaugural Match Day T and it's awesome. But if you're thinking about acquiring one, you'd better get here early. Gates are at 2pm and there are only 1,000 of these beauties. Since this is our first home match ever, make sure you take a second to take it all in. Soak in the moments of this historic occasion. You know, The Bytown Boys and Capital City Supporter groups will be in full voice, so sing along, be safe and enjoy the match. Want to know more about the match, read the match preview, HERE.