Join the Pool! Join the viewing parties! Canada World Cup 2022
We can't wait to scream #AllezLesRouge and support our Canadian men at the 2022 World Cup. Here are some ways that you can support all things Canada during the largest sporting event in the world.
1 – Submit an entry in our Official Pick 'Em Pool. It's super easy to enter and it's free. Just follow THIS LINK or download the Run Your Pool app.  The PRIZE: an Atletico Ottawa season seat! (if you don't have one, it's on us. If you do have 0ne, then we'll bonus you an additional one!)
This just in… @ZachVerhoven made his picks, so make yours today!

Join our FREE World Cup pool and you have a chance at winning an Atleti Season Seat, along with some serious bragging rights.

🔗 ⤵️https://t.co/ohyF9yzOb0#ForOttawa I #ForCanada #WorldCup I #JoinThePool pic.twitter.com/gkZj5nKZUx

— Atlético Ottawa (@atletiOttawa) November 15, 2022
2 – Check out the Official Watch Parties with The Voyageurs. These are hosted by local members of The Voyageurs and Capital City Supporter Group. The location is Glebe Central Pub and we will be offering some pretty sweet Atletico Ottawa gear for giveaways.
🍁This November. Join Us ❗️at The Glebe Central Pub 🍻 for Ottawa's Official @thevoyageurs World Cup Viewing Parties 🇨🇦#AllezLesRogues#WC2022#Qatar2022@CapitalCitySGpic.twitter.com/vpgn74g7YN

— Capital City Supporters Group (@CapitalCitySG) November 10, 2022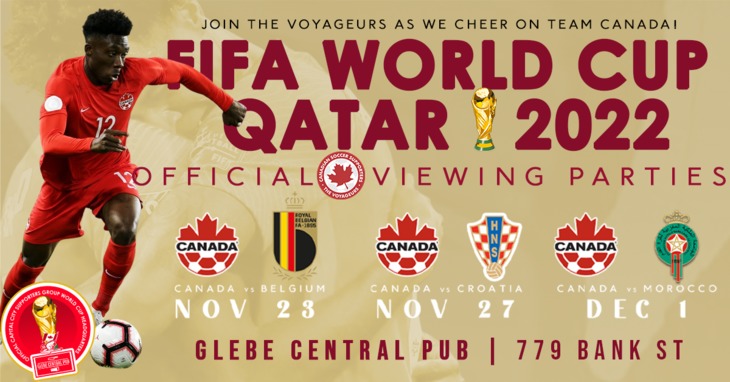 3 – Join The Voyageurs – Canada's official soccer supporters have all the latest news and info, along with some incredible merch. They also have exclusive ticket offers and a whole bunch more.
Hey #VoyageursFamily we've got some great new World Cup gear in our online store! Get ready for November with our new Qatar t-shirt and flag designs! And we've got a World Cup pricing promo on scarves! Hit the link and get hyped!!! #AllezLesRouges ❤️🇨🇦⚽https://t.co/KQVgc7sKjE

— The Voyageurs (@thevoyageurs) October 16, 2022
4 – Support Canada Soccer – There are a few different membership options to consider like Canada Red & White which gets you on the list for news, updates and content from our men's and women's nation teams. See below for the #WeCAN initiative.
What does #WeCAN mean to you? 🤔

Share your video on social using the #WeCAN to join the #WeCan Collective!

Share your message on our website to be entered to win Canada Soccer prizes!

— Canada Soccer (@CanadaSoccerEN) November 10, 2022