Atlético Ottawa stuns Cavalry FC for first win in CPL history
Cavalry FC probably wasn't the team anyone expected Atlético Ottawa would beat to earn its first CPL win, but it seems nothing is guaranteed at The Island Games
The expansion side recorded the first victory in club history on Thursday afternoon, shocking the first-placed Cavs with a 2-0 win courtesy of a pair of goals in short succession in the second half.
The first half was fairly uneventful from a footballing perspective, with heavy winds making it difficult for either side to find their targets with attacking moves. The biggest moment of the opening half, of course, came at the 8:46 mark, when play was officially stopped and players, coaches, refs and staff from across the CPL paused to kneel in solidarity to protest racial discrimination.
The match itself picked up after halftime, as both teams started adapting to the conditions and threatened to score.
Around the hour mark, Ottawa finally broke the deadlock. Francisco Acuña, coming in from the right flank, spotted Ben Fisk unmarked in the box, and found him with an incisive pass along the ground. Fisk's finish, although not the most powerful strike, managed to freeze up Cavs goalkeeper Marco Carducci and roll past him to put Atleti up 1-0.
Atlético struck again just three minutes later. Striker Malcolm Shaw, the only Ottawa player in the attacking half, managed to bring down what looked like a harmless clearance from his penalty area. He found himself with a little space, and thumped a shot from 30 yards out that sailed (perhaps helped slightly by the wind) over Carducci to make it 2-0.
After holding off the Cavalry pressure for the final half-hour, Atlético moved up to five points, which puts them level with Pacific FC and HFX Wanderers FC for fourth place (but behind both clubs on tiebreakers). Cavalry, meanwhile, remains atop the table, but they'll have to wait a little longer to clinch a top-four spot that would see them advance to the second round.
Cavalry's next match is Sunday vs. Pacific FC (12:00 p.m. ET/1:00 p.m. AT). Also on Sunday, Atlético Ottawa meets Forge FC (3:00 pm. ET/4:00 p.m. AT).
---
WATCH: All CPL players show support of social justice issues during Ottawa-Cavalry match
---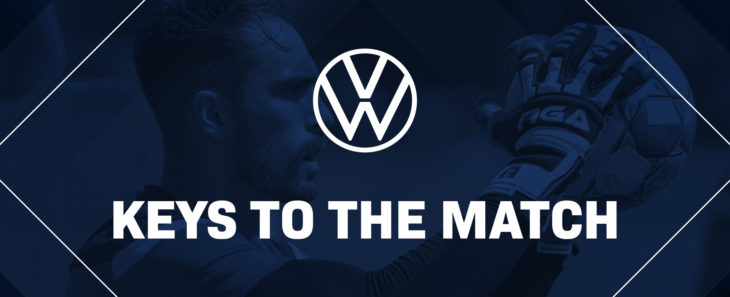 Atlético Ottawa: Positive reaction – The expansion side settled into the game very well, and although they didn't blow the doors off in the first half, they put in a much more comprehensive 90-minute performance than their previous three games in PEI. Coach Mista will certainly be pleased with his team's response to a few disappointing early results.
Cavalry FC: Tempo trap – The Cavs didn't quite get the match to the pace they wanted. They had their chances, some of which definitely should've been buried, but they weren't able to wear Ottawa down enough, despite having over 60 per cent possession in the game and holding their opponents to an overall pass success rate below 70 per cent.
---
BOX SCORE
Goals
61′ – Ben Fisk (Atlético Ottawa)
64′ – Malcolm Shaw (Atlético Ottawa)
Discipline
32′ Yellow – Brandon John (Atlético Ottawa)
45+3′ Yellow – Francisco Acuña (Atlético Ottawa)
---
TOP PERFORMER
Malcolm Shaw (Atlético Ottawa)
Sometimes, a moment of quality is all you need. Shaw put his side over the top with his stunning goal, on a night where he took three shots and won all his aerial duels. He seemed to settle into his role as Ottawa's lone striker, and he single-handedly took the wind out of Cavalry's sails with his strike.